Venue Location-General Information

Beijing City


Conference Venue


Exhibition Site


Local Area Information


VISA


Currency


Shopping


Taxes


Tipping


Business Hours


Dress


Weather


Measures


Electricity


Mobile Phone Network
Travel and Hotel Information

Travel Arrangement

China Travel Service

Hotel Accommodations

Hotels Information (for APCA attendants)

Function Places

Airport, Airway and Car Rent
---
Venue Location-General Information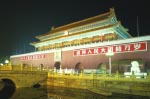 Beijing is the capital of the People's Republic of China and the municipality is under the direct administration of the Central People's Government. The city is the political, cultural, scientific and educational hub of the country, as well as a major stage for international activities.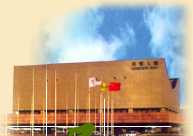 China World Trade Center is one of the biggest World Trade Centers in the world, with a splendid exhibition site in Beijing. It is available to hold various international and local conventions and exhibitions where has been in use since 1990. There are modern facilities and equipment of multiple use functionality in the building to cope with all types of conventions and exhibitions at organizers requirements.

LOCAL AREA INFORMATION Beijing covers an area of 6,555 square miles (16,807 square kilometers).
VISA Visas are required for all foreigners entering mainland China. Standard tourist visas, valid for 30-day visits, are generally easy to acquire, while visas valid for more than 30 days are usually difficult to obtain. Visitors are advised to consult their travel agent, China International Travel Service, China Travel Service, any PRC Embassy or Consulate for detail.
CURRENCY The unit of money in China is called Renminbi. Credit cards are accepted in major hotels as well as the Friendship stores. Credit cards and US dollars are widely accepted in major hotels and shops. Use the Currency Converter to check the exchange rate that corresponds to your local currency.
SHOPPING in Beijing becomes more convenient by the day. Every year new shopping centers and plazas are sprouting up all over the capital. Just a few years ago there were only a few department stores and small bazaars, but now there are many superstores, mega-malls and markets where you can buy just about anything you need. The Silk Market at Xiushui Jie and the free market at Sanlitun are favorites among tourists, expats and locals alike. Native products of Beijing such as antiques, porcelain, lacquerware, jade, carpets, silk, painting & calligraphy scrolls, handicraft and traditional Chinese medicine are all popular items of purchase. Cotton shoes, snow-lotus cashmere sweaters, woolen bed sheets, cotton shirts, and other practical clothing items are some of the best bargains in the world. Shops are open seven days a week, from 8:30 a.m. to 8 p.m. (7 p.m. in winter). Large shopping centers and the Friendship Store may stay open to 9 p.m. and offer more Westernized favours. Night markets usually begin their business at twilight. Bargaining is only possible with private vendors in street stalls.
TIPPING Officially, tipping is inappropriate and disapproved of.

BUSINESS HOURS : Banks and Government offices: Mon to Fri 8 a.m. to 12 noon, 2 p.m. to 5 p.m. Offices: Mon to Fri 9 a.m. to 6 p.m. Shops (Hours vary): Mon to Sun 8:30 a.m. to 8 p.m.; they may remain open for business until later in some cases.
DRESS is generally informal in China except on social diplomatic occasions; a suit and tie for formal occasions is widely accepted. Dressing modestly is advisable. Winter in the north demands heavy clothing, fleece-lined jackets and earmuffs advisable as the temperature can drop to biting temperatures with strong winds. Very light clothing in the summer will be adequate especially in the South.
WEATHER Month Average Temp oF(oC) Humidity Mar--May 61oF to 64oF (16oC to 18oC) 32% to 35% Warm days and cool nights Jun--Aug 82oF to 93oF (28oC to 33oC) 42% to 60% Hot and occasional rainy Sep--Nov 50oF to 68oF (10oC to 20oC) 39% to 47% Warm days and cool nights Dec--Feb 14oF to 50oF (-10oC to 10oC) 30% to 33% Dry, sunny and cold Current Weather Forecast HEALTH Visitors to China are required to fill in a health declaration form when entering the country. Tap water in the hotel is potable. Bottled drinking water is also available in the hotel room as compliment.
MEASURES The system is metric although traditional measurements are still popular.
ELECTRICITY 220 volts, 50 cycles. Plugs are normally two-pin flat (5 amp)
MOBILE PHONE NETWORK GSM OR CDMA

All the travel arrangement and hotel reservation for attendants of the Carrier-Net Event, are through the Housing Bureau of APCA. 5 star level hotels are available. Due to the fact that April is the high season for accommodation in Beijing, late reservation will cost more.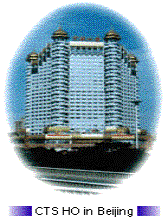 China Travel Service Head Office (CTS HO) is one of the Co-ordinators for this Event,and has been appointed by APCA to assist attendants for the Carrier-Net Event. The global offices of China Travel Service (CTS) will serve you in order to have a safe journey while attending the APCA's Event.
Cost: US$200 for each attendant
Half - day Beijing City Tour will be arranged at Apirl 27, 2004
Half - day Tour is organized to visit Great Wall at April 28, 2004

Airport Pick up : US$50 per person (airport - hotel for one way trip).
Please e-mail: ndm.dny@ctsho.com or lgq.dny@ctsho.com 7 days before your departure to inform your flight Number and arrival date. CTS will send confirming e-mail within three days.



A special standard room rate is offered by the Housing Bureau of APCA at ____+ 15% tax per night with continental breakfast included. A shared room will be charged an additional US$30 per day. The price is available till Mar 25,2004. The rate will be higher after that day according to the market value of local hotels.The prices of deluxe,suites or presidential suites are subject to negotiation with each hotel. Hotels selections are served on a first come, first served basis since April is the high season in Beijing. The Housing Bureau of APCA has the right to arrange attendees to live in other 5 star hotels, instead of their selected hotel if it is full booking there or convenient arrangement for traffic to attendees.
Special Immigration Service
Guests who book the hotel accommodation through the Housing Bureau of APCA are all eligible to use the special desk for APCA, to avoid long customs line. Please look for the APCA signs prior to Immigration. CTS will arrange a VIP room at Beijing airport for those guests to rest after their arrival.

For reservations, please e-mail: apca@netvigator.com
Credit Card (reference needed) or wiring payment are available with two nights deposit required.
Any affiliate company requesting 10 or more rooms will be required to sign a group contract directly with the Housing Bureau of APCA and be subject to deposit and cancellation procedures.

China World Hotel, Beijing is located in the heart of the diplomatic and financial district and close to the Forbidden City, China World Hotel is one of Beijing's finest hotels. Being part of the China World Trade Center, this luxury hotel offers unrivalled access to its extensive conference and exhibition facilities, making it a perfect starting point for both business and leisure. All 716 rooms offer panoramic city views and are equipped with a complete range of amenities. Complimenting its excellent facilities is a world-class fitness center and the finest restaurants Beijing has to offer. The Conference Venue has been selected in this hotel to recept the attendants of Carrier-Net conference there.
China World Hotel, Beijing
No. 1 Jian Guo Men Wai Avenue, Beijing 100004, China
Tel: (86-10) 6505 2266
Fax: (86-10) 6505 0828
APCA Reservation Price : US$200 + 15% (Breakfast included)

The Kerry Centre Hotel, Beijing, a stylish, modern luxury hotel, is situated in the Chaoyang district - Beijing's diplomatic, commercial and financial center just behind the China World Hotel.The city's popular historical sites, such as the Forbidden City, are also short distances away, making it ideal for both business and leisure travelers. All 487 rooms and suites have a contemporary design with the comforts and conveniences of the ultra-modern home. It also boasts some of the largest conference facilities amongst hotels in Beijing.

The Kerry Centre Hotel, Beijing
1 Guang Hua Road, Beijing 100020, China
Tel: (86-10) 6561 8833
Fax: (86-10) 6561 2626
More detail information of these two hotels to see Website: http://www.shangri-la.com
APCA Reservation Price: US$170 + 15% (Breakfast included)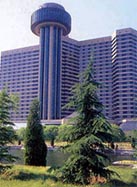 The Hotel Kunlun is located on the bank of the beautiful Liangma River, a location famous for its embassies, foreign companies, exhibition centers, shopping centers and other deluxe hotels.With convenient transportation, it takes only15 minutes drive to the airport and 20 minutes to downtown.
No. 2 Xin Yuan Nan Lu, Chaoyang District Beijing, China.
Tel: 8610-65903388
Fax: 8610-65903228/65003214
Post code:100004
(Toll-free)Tel: 800-8100018
(Toll-free) Fax: 800-8100017
APCA Reservation Price: US$160 + 15% (Breakfast included)
The Great Wall Sheraton Hotel, At the heart of Beijing, the cultural and commercial center of China, you will find The Great Wall Sheraton. Located close to the Diplomatic District,we are five minutes from the Agricultural Exhibition Center and the China International Exhibition Center.
The Great Wall Sheraton Hotel
10 North Dong San Huan Road, Chaoyang District
Beijing, 100026, China
Tel: (86)(10) 6590 5566
Fax: (86)(10) 6590 5878 (Rsvn)
6590 5398 / 5938 (General)
APCA Reservation Price: US$170 + 15% (Breakfast included)

Beijing hotel located in downtown Beijing near the shopping-center Wangfujing Street and Chang An Avenue, only five minutes' walk away from Tian'anmen, overlooking the Forbidden City from guest room, 30km to airport and 2km to railway station.
No.33 East Chang An Avenue, Beijing, China
Post Code: 100004
Tel: (86-10)65137766 Fax: (86-10)65137703
E-mail: mailto:sales@chinabeijinghotel.com
Room Reservation: Tel: (86-10)65137766-777
Fax: (86-10)65137703
Banquet Reservation:Tel: (86-10)65137766-388
Fax: (86-10)65232393
APCA Reservation Price: US$150 + 15% (Breakfast included)

US$200 + 15% (Breakfast included) at VIP Tower

Kempinski Hotel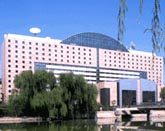 No.50 Liangmaqiao Road, Chaoyang District, Beijing 100016 PRC
Tel: (86-10) 6465 3388
Fax: (86-10) 6465 3366
Email: sales@kempinski-beijing.com
Website: www.kempinski-beijing.com
Toll Free: 800-810 6069 (Mainland China Only)
APCA Reservation Price: US$160 + 15% (Breakfast included)
Airport: Beijing Capital Airport
Airline:



United Airlines is the official airline for attendants of the APCA Conference from the USA or Canada and other nations to Beijing, China. Call United 's Specialized Meeting Reservations Center at 1-800-521-4041 to make your reservation and receive 5% discount off the lowest applicable fare, including First Class, or 10% discount off full unrestricted coach fare, purchased 7 days in advance. An additional 5% discount will apply when tickets are purchased at least 60 dates in advance of your travel departure.
Car Rental:
Hertz has been designated as an official car rental company for the attendants of the APCA conference, who are in the USA and other nations worldwide with Hertz offices there. For reservations, call Hertz at 1- 800-654-2240 in U.S.A; 1-800-263-0600 in Canada; 1-416-620-9620 in Toronto or outside these areas at 1- 405-749-4434, and refer to CV______. Or you may contact your travel agent. Self and valet parking are available at the hotel.